Low FODMAP Brat Burgers – classic brat flavor in FODMAP-friendly burger form. They're also free from gluten, lactose, garlic, and onion and have less sodium than your typical brat.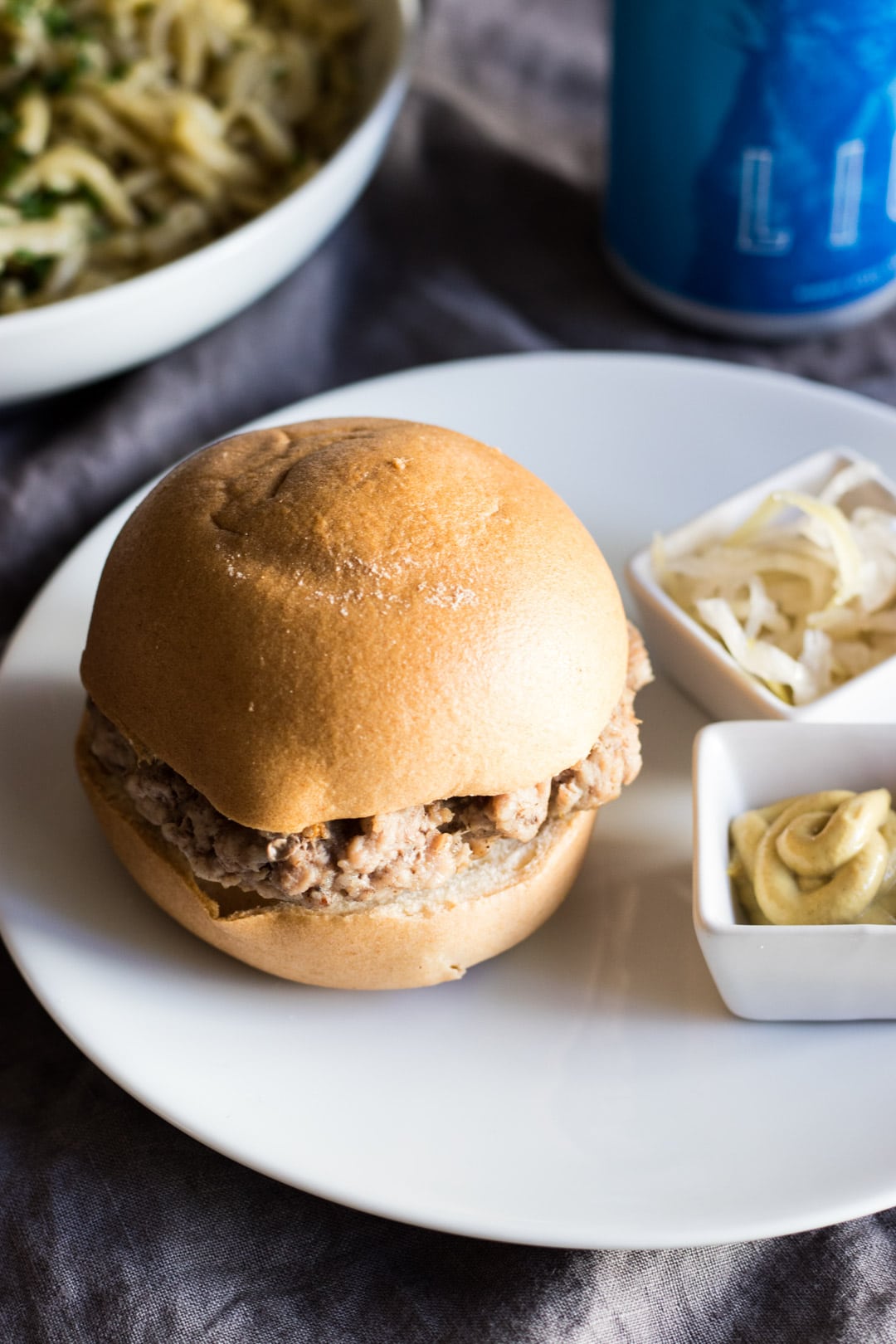 Happy Oktoberfest season!
For those of you who may not know, my husband and I were born and raised in the very German community in south-central Minnesota called New Ulm.
My families and I are of German ancestry. My grandpa's first language was German. And, my dad (who BTW also suffers from IBS) has been part of a German singing group for 30+ years. So, growing up I spent more time than most kids at local German festivals, like Fasching and Oktoberfest. And because of it, I enjoyed a lot of yummy German-American food.
Side note: Coincidentally, Al and I currently live near La Crosse, Wisconsin which also has one of the largest Oktoberfest celebrations in the US.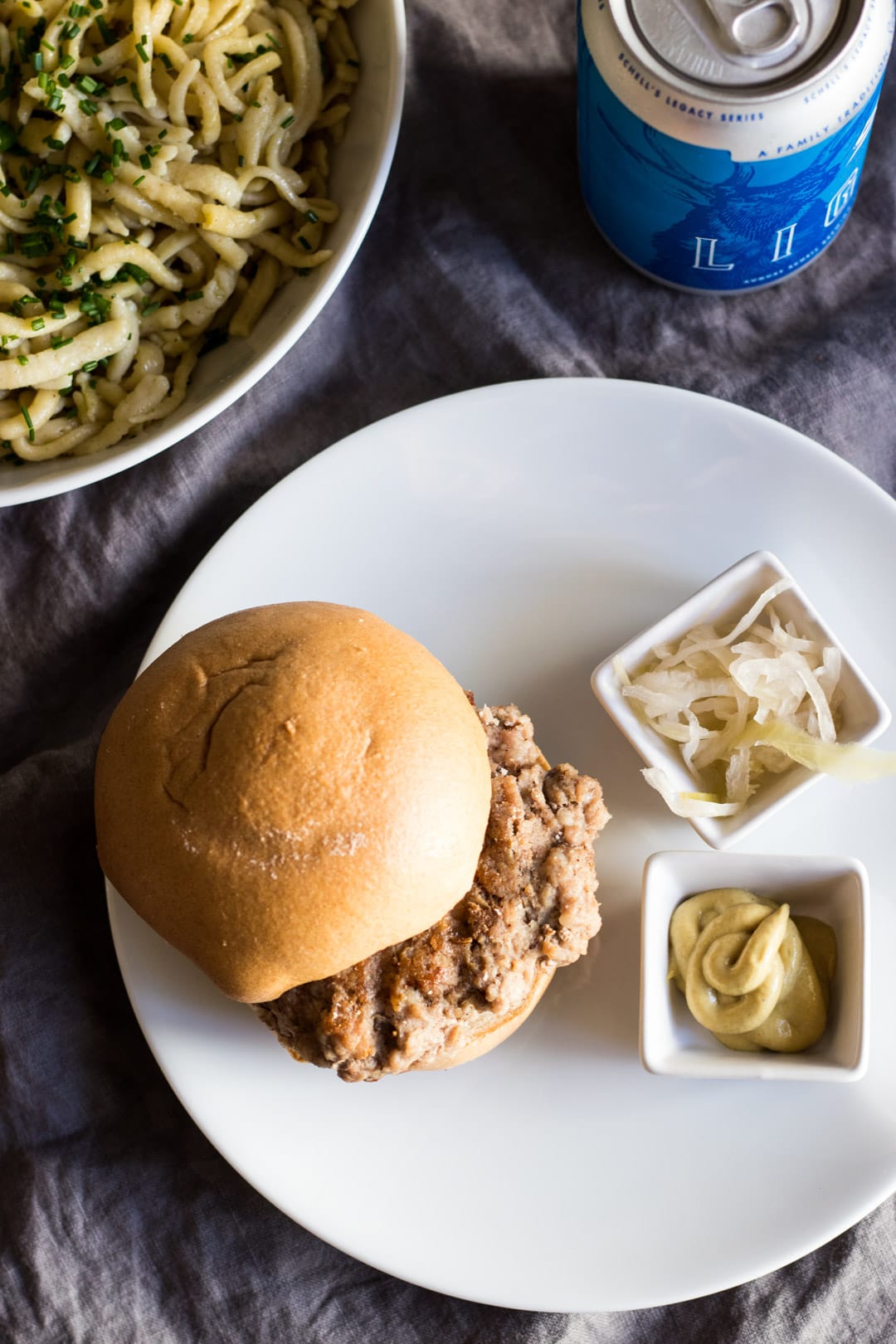 Many of the German-American foods that I enjoyed as a kid contained gluten, dairy, and/or FODMAPs. So, I haven't been able to enjoy many of my childhood favorites … until now!
As it's Oktoberfest this weekend in La Crosse, I thought we'd celebrate with some FODMAP-friendly takes on two of my favorite German-American foods: brat burgers and spaetzle.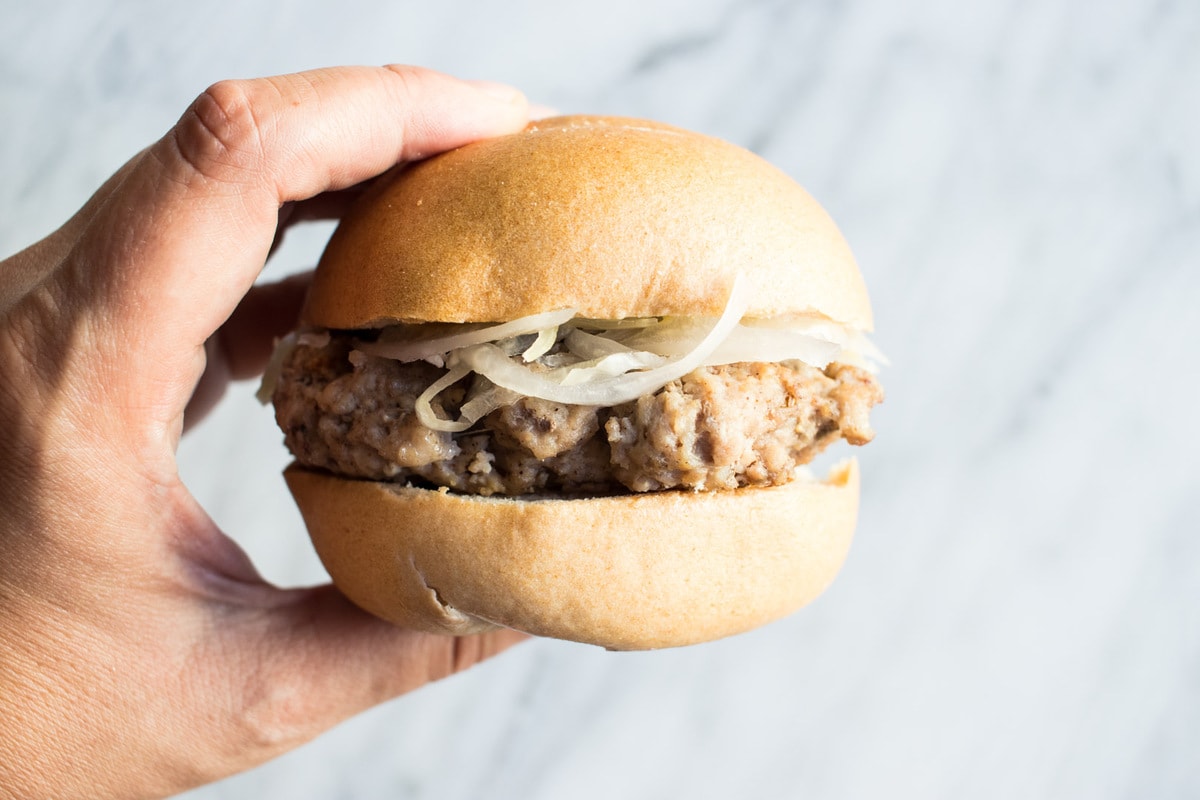 First up, Low FODMAP Brat Burgers.
Bratwursts (aka brats) are pretty common across the Midwest. Lots of communities will hold brat fry's to raise money and you can find multiple, often locally-made, brat varieties in most grocery stores. Unfortunately, some prepared brats that I've come across contain garlic powder or other high FODMAP/ unknown ingredients (e.g., "natural flavors").
As I'm not well-versed in, nor feel compelled to make my own brats, I decided to take the same general spices and make a FODMAP-friendly brat burger instead.
These low FODMAP brat burgers are spiced with a blend of nutmeg, caraway seeds, ginger, allspice, salt, and pepper. Instead of black pepper, I used white pepper which is fairly typical in brat recipes.
Although white pepper hasn't officially been tested by Monash, only a small amount is used. If you want to be "safe" you can certainly substitute black pepper in.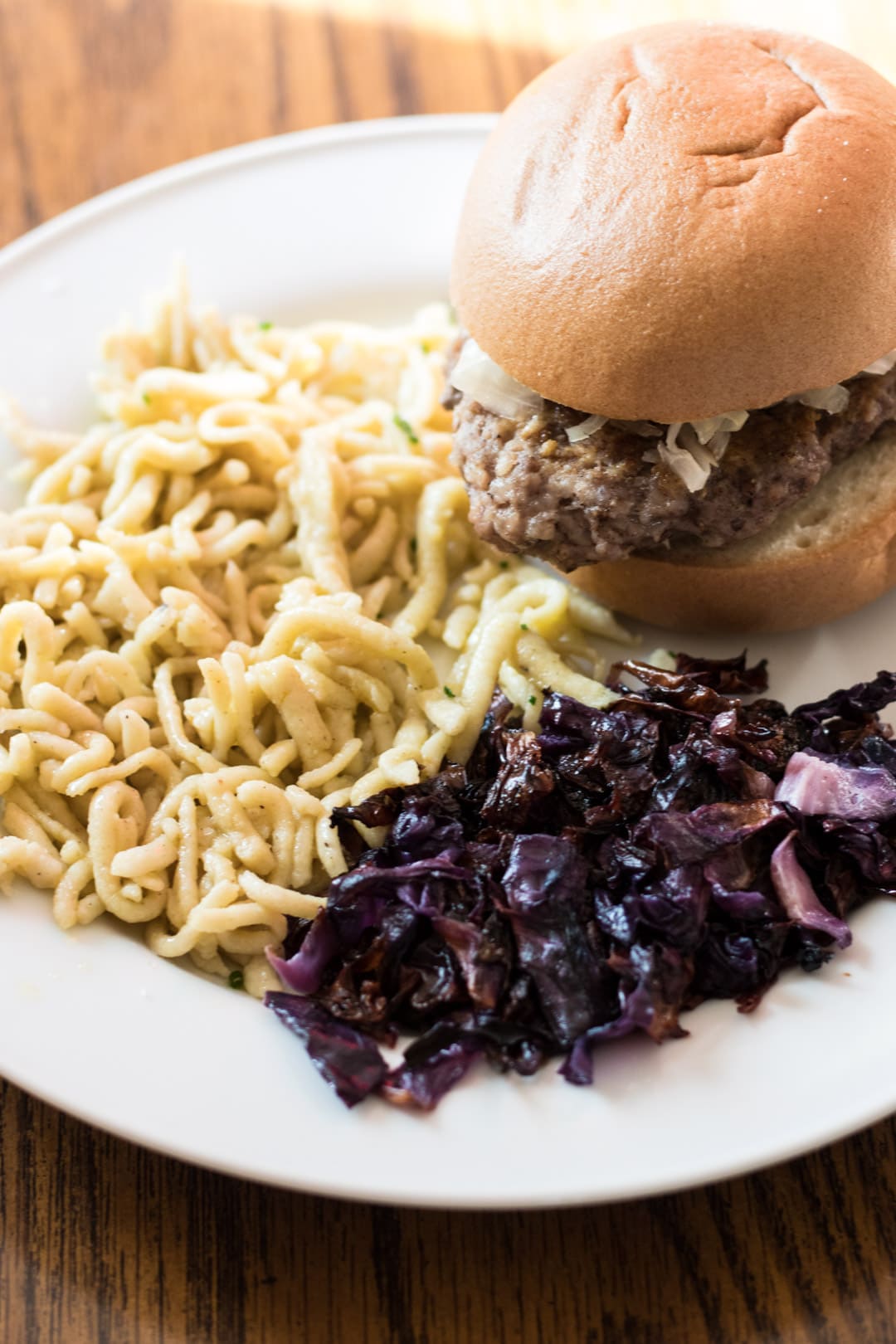 Serving Suggestions
You can serve these brat burgers on gluten-free hamburger buns. Although they haven't "officially" been tested yet, many people, myself included, seem to tolerate Udi's Gluten Free White Hamburger Buns or Schär Gluten Free White Hamburger Buns. You could also serve these brat burgers "bunless" or wrapped in lettuce leaves.
As far as condiments go, it's pretty typical to find brats and brat burgers served with:
Mustard: yellow, Dijon, and mild German mustard all are low FODMAP
Sauerkraut: low FODMAP in small (1 Tbsp. or 20 gram) servings
Ketchup: Regular US ketchup is "safe" in really small servings (13 grams) or you can enjoy more with FODY Foods Low FODMAP Ketchup
Finally, as beer is pretty synonymous with Oktoberfest celebrations, I wanted to let you know that it's possible to "safely" enjoy one 12 oz. beer on the low FODMAP diet, assuming you don't have issues with gluten. If you choose to partake, please drink responsibly. 🙂
Print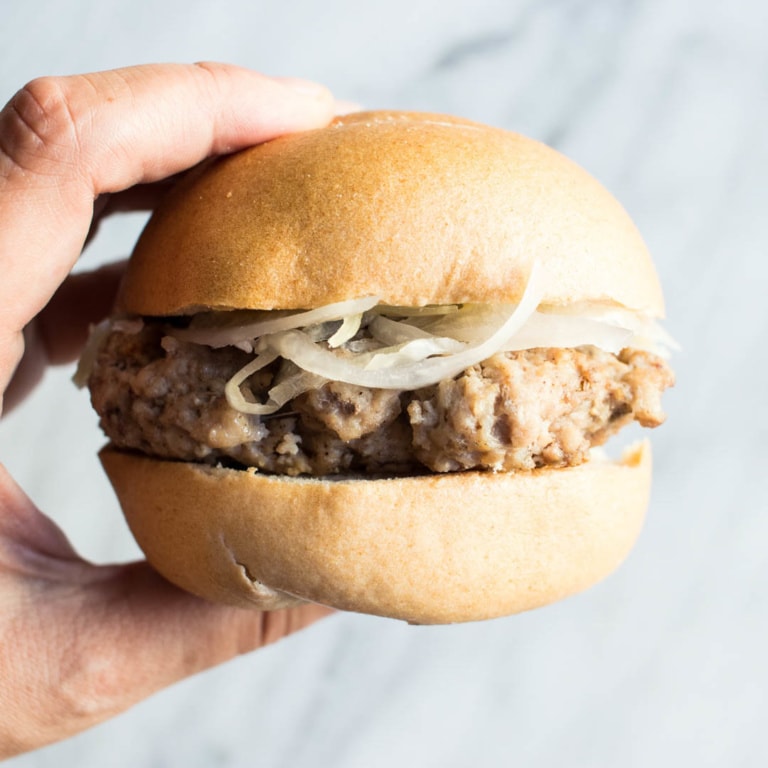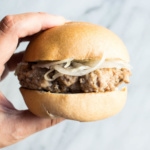 Low FODMAP Brat Burgers
---
Author:

Prep Time:

5 mins

Cook Time:

10 mins

Total Time:

15 minutes

Yield:

4

1

x
Description
Low FODMAP Brat Burgers – classic brat flavor in FODMAP-friendly burger form. They're also gluten-free, lactose-free, onion-free, garlic-free, and have less sodium than your typical brat.
---
Scale
Ingredients
½ tsp

. salt

½ tsp

. white pepper

½ tsp

. caraway seeds

½ tsp

. ground nutmeg

¼ tsp

. ground ginger

¼ tsp

. allspice

1.25

lb. ground pork
Serving Suggestions:
FODMAP-friendly hamburger buns
Sauerkraut
Mustard
---
Instructions
Preheat grill. In a small bowl, stir together salt, white pepper, caraway seeds, nutmeg, ginger, and allspice until well mixed.
Place ground pork in a large bowl. Add spice mixture and mix until spices are evenly distributed.
Grill burgers, flipping once, until done. Serve warm on gluten-free buns with sauerkraut and mustard.
---
Notes
White Pepper: FODMAP status currently unknown. However, it is related to black pepper which is low FODMAP and only a small amount is used. If you'd like to stay on the "safe" side, substitute in black pepper.
FODMAP-friendly Hamburger Buns: Although not officially tested, many seem to tolerate Udi's Gluten Free White Hamburger Buns and Schar Gluten Free White Hamburger Buns and may be options to try.
Sauerkraut: A low FODMAP serving is 1 Tbsp. or 20 grams.
Category:

Entree

Method:

Grill

Cuisine:

German American
Keywords: pork, burger, sandwich,
2