Hey there, friend!
I'm Em – a fellow busy FODMAPer and lover of food. Welcome to Fun Without FODMAPs where I share easy low FODMAP recipes for you (and me)!
If you're not familiar, reducing FODMAPs (aka the Low FODMAP diet) is an effective, science-backed nutrition strategy to help many with IBS manage their symptoms. Click here to learn more.
BACKGROUND
When I started Fun Without FODMAPs in early 2017, I was working full-time as a supermarket dietitian. At night, I loved creating and sharing new low FODMAP recipes, but like many of you, didn't have, nor want, to spend hours in the kitchen.
So, I set out to create yummy low FODMAP options for my fellow busy people.
As a result, many of my recipes call for 10 ingredients or less, take no more than 30 minutes or can be prepared using a handy-dandy slow cooker or Instant Pot.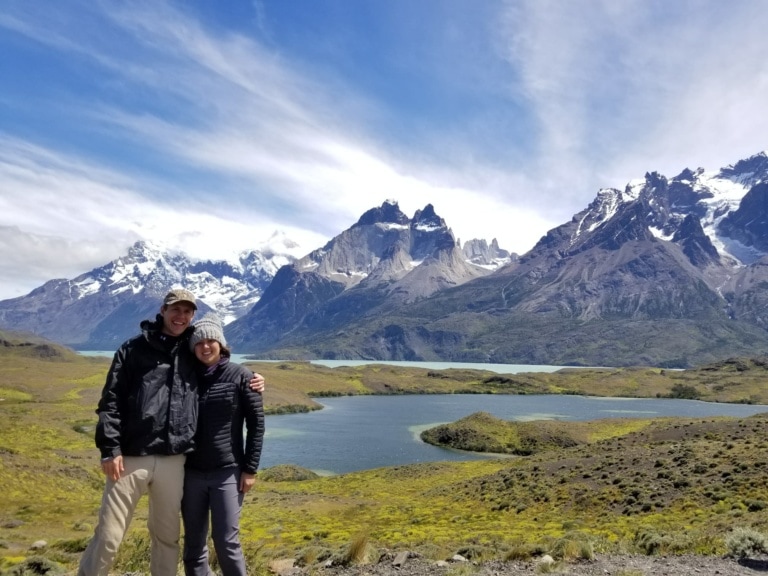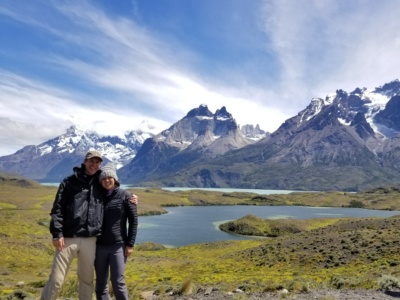 In addition to sharing easy low FODMAP meal ideas and FODMAP-friendly family favorites (dare you to say that 10x fast ?), I am an avid adventurer and love sharing my FODMAP-friendly take on globally-inspired dishes, usually on Wednesdays.
I try to operate a no-food-waste kitchen and we (my husband and I) eat everything I create. So, with testing and re-testing (and sometimes re-testing again), I currently aim to share 2-3 (well-loved) recipes per week. The fact that we eat everything also means that many of my recipes can easily be modified to be wheat-free, gluten-free, dairy-free, and black pepper-free, due to my own additional (non-FODMAP) intolerances. 🙂
LOW FODMAP RECIPE NOTES
The low FODMAP recipes found on Fun Without FODMAPs are based on Monash University's FODMAP research and green low FODMAP serving sizes. Occasionally, other resources like data from the FODMAP Friendly Food Program, scientific research articles, and my best professional judgment are used when Monash data is not available.
With that said, IBS symptoms are very individual. Although I try to create recipes that should be tolerated by most, we each have our own unique tolerance levels and reactions to foods. For this reason, it is always recommended to work with a FODMAP-trained dietitian on your FODMAP journey.
As low FODMAP research is constantly emerging and recommended serving sizes occasionally change, it may take some time to update my older recipes to reflect these changes. With that said, please refer to the Monash app for the most up-to-date low FODMAP serving sizes.

FUN FACTS
I have IBS-M and idiopathic urticaria (hives). You can read more about my health story here.
Yoga is my favorite form of movement. I've been practicing for well over a decade and love it so much, I became a registered yoga teacher.
Travel is my first passion. It's one of the few nonessential things I choose to spend money on. Over the years, I've traveled to Costa Rica, Egypt, Mexico, New Zealand, Iceland, Chile & Easter Island, Indonesia, Italy, several Caribbean islands, and over half of the US states.
On a similar note, I'm on a mission to visit as many places as possible. Currently topping the bucket list: the Baltics, Thailand, Greenland, Japan, Alaska, and Spain. Have you been? I'd love suggestions!
I love living in the land 10,000 lakes (aka Minnesota) with my husband, Alec, and our four-legged friend, Beau (affectionately referred to as "The Rat"). We technically live on the border of Minnesota and Wisconsin, but we will forever be Minnesotans.
PROFESSIONAL BIO
Emily Schwartz, MS, RDN, RYT is a registered dietitian nutritionist, yoga teacher, and creator of the growing low FODMAP website: Fun Without FODMAPs. She is trained in the use of the low FODMAP diet for IBS by Monash University and is licensed and certified to practice medical nutrition therapy in both Minnesota and Wisconsin.
In addition to creating easy low FODMAP recipes for her fellow "busy" people, Emily currently provides nutrition coaching, both in person and virtually, to clients with IBS. Her food-first approach to nutrition for IBS is individualized and wholistic. She believes in helping her clients find a balanced, varied diet filled with wholesome foods while maintaining good symptom control. As nutrition is not one-size-fits-all, Emily does not subscribe to, nor promote one particular way of eating. Instead, she aims to provide options and work with her clients to help them find their own unique path to wellness with IBS.
Prior to focusing on her own business, Emily served as a nutrition communications specialist and brand ambassador for one of the fastest growing supermarket chains in the midwest. She frequently appeared on TV cooking segments, developed health-conscious recipes, facilitated store tours and presentations, and served as a positive, public-facing nutrition expert for the company.
Emily graduated with honors from Minnesota State University – Mankato with a bachelor's degree in chemistry. She went on to receive her master's degree in human nutrition from the University of Wisconsin – Stout and completed her dietetic internship at the highly-selective University of Wisconsin Hospital & Clinics in Madison, Wisconsin. During her internship, she was introduced to and received FODMAP training at the UW-Digestive Health Center. In 2018, she completed Monash University's dietitian training on the use of the FODMAP diet. Committed to life-long learning and growth, she recently completed a 200-hour yoga teacher training at Santosha Yoga Institute in Bali and loves teaching in her local La Crosse, Wisconsin community.
When she is not seeing clients, developing recipes for Fun Without FODMAPs, or teaching yoga, Emily enjoys traveling, continuing to learn Spanish, DIYing, reading all the books, and spending time with her husband and dog, Beau (also affectionately referred to as "The Rat").
DISCLAIMER AND DISCLOSURE
For more information, please click here.
PRIVACY POLICY
For more information, please click here.